Are you ready to improve your diet? In Food as Medicine Part 1, we learned it's one of the most important things you can do to improve your overall health and enable your immune system to fight disease. God created our bodies to be able to heal, and when we eat properly, eliminate ultra-processed food, and take care of ourselves, it makes it easier for our bodies to heal, and our immune systems to function as they should.
In this post, we'll take a more in-depth look at Point #1 of my Top 5 List: Eliminate Convenience or Ultra-Processed Foods. Note: I'm not a doctor or other health care professional. I'm simply sharing what has worked for me personally. Please consult with your health care provider before making any changes that could affect your health.
Much of my information in this post comes from practicing family physician and functional medicine expert Dr. Mark Hyman. I found this Minisode 96, called How to Quit Eating Ultra-Processed Foods especially helpful. In this podcast we hear excerpts of Dr. Hyman interviewing several experts.
Let's get started …
What Is Ultra-Processed Food?
Dr. Aseem Malhotra, founding member of Action on Sugar, board member of the trustees of UK health think tank, The King's Fund, and co-author of the book The Pioppi Diet says that poor diet is driving our poor health, and ultra-processed foods are where we need to concentrate first.
His ultra-processed foods definition:
Mass packaged food that is deficient of nutrients and fiber and is high in sugar, starch, unhealthy oils, additives, preservatives and, most of the time, has five or more ingredients.
I'm sure you have some examples of ultra-processed foods running through your mind– and in your cupboard. When I think of them, I picture boxed cereal, bags of chips, sugary desserts, most bread, snack-foods, boxed casserole mixes, and other prepackaged foods.
Suffering the Health Effects of a Bad Diet
Dr. Malhotra also says that the consumption of these foods are linked to the following diseases:
Chronic metabolic disease.
Heart disease.
Cancer.
Obesity.
Type 2 diabetes.
Most of us either know someone who has one of those diseases — or we have one ourselves! By eliminating ultra-processed foods, we may be able to decrease our risk and improve our health.
Overfed but Undernourished
Dr. Elizabeth Boham, physician and nutritionist who practices functional medicine at The UltraWellness Center in Lenox, MA, suggests that when we eat nutrient-depleted foods, we eat more because our bodies are looking for the nutrients we are missing.
And a small study done by the National Institute of Health indeed showed that when compared to whole food eaters, processed food eaters, on average, eat 500 more calories per day than their whole food counterparts. That's an extra 3,500 calories per week from eating ultra-processed food over whole foods.
Food Industry Culpability in Ultra-Processed Food
And this isn't by accident.
Dr. Hyman and Fred Provenza, professor emeritus of Behavioral Ecology in  the Department of Wildland Resources at Utah State University, discuss how the food industry makes it a priority to include chemicals in ultra-processed food that are addictive, making us crave them, and overriding our innate ability to choose healthy foods that our bodies need.
"Processed foods are very hard to resist when you are eating them" [as a regular part of your diet], he said.
Artificial flavoring, industrial chemicals, starch, and sugar hijack our brain chemistry and hormones. Research shows, however, that when we reclaim our diet, our bodies quickly revert back to a healthy way of eating.
Help! How Do I Change My Diet?
It may feel like an overwhelming process to take back control. Fortunately, we can rewire our hormones and brain chemistry by eating whole, healthy foods. The result? Cravings begin to go away. Again, remember to consult with your doctor before making changes.
Dr. Hyman's Recommendations
Eliminate processed carbs and refined sugar from your diet for 10 days to reset your biology.
Focus on eating fiber, healthy fats, and clean protein.

This means eat a lot of non-starchy vegetables and good fats like

olive oil and avocado oil. C

ut out the inflammatory vegetable oils like canola, corn, sunflower, safflower, etc. Read labels because these vegetable oils are in

everything.
Eat healthy, clean protein like grass-fed meats, organic meats, chicken, fish, as well as plant-based sources of protein like gluten-free tempeh.
Remember to make your kitchen a safe zone by removing the ultra-processed foods so you're not tempted to eat them.

.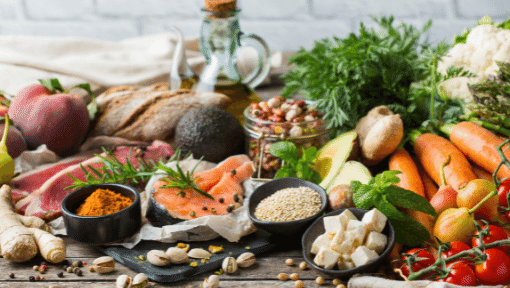 Final Suggestion
Ultimately, your road to eliminating ultra-processed foods starts in the grocery store.
Max Lugavere, author of several books including Genius Kitchen, says on page 71 to think of your grocery shopping cart as your extended stomach.  "If It's in your shopping cart, it's in your stomach," he said.  
Food As Medicine Resources
These are a few of my favorite resources to learn more about food as medicine.
In Summary
Pray that God will give you the strength to change your diet and rid your home of ultra-processed foods. This is a huge step on your path to wellness. 
"I have the right to do anything," you say—but not everything is beneficial. "I have the right to do anything"—but I will not be mastered by anything. – 1 Corinthians 6:12

.
What About You?
What are you thinking about changing? Leave us a comment. We'd love to hear from you — and we're praying for you!