Wife. Mother. Teacher. Bread winner, grocery-getter caretaker, laundress, house cleaner, chief cook and bottle washer, butcher, baker, candlestick maker. Sometimes life gets messy, and we seem to get lost in the jumble and we have to ask Am I still here? Does anyone see me? Do I still see me? Who am I?
A few decades ago a well known slogan for women was She can have it all. Now a days a more accurate slogan is She must do it all.
I have lived that.
I was a mom with kids still in school, working a full time job, caring for my dying mother, getting groceries for two households, going to ball games and doctor appointments while trying to hold it all together for everyone, everywhere. Tired, strong, courageous, scared. Somewhere in the midst of all this living I was getting lost.
And God was faithful.
He was with me every step of the way. While I was letting go of teens, letting go of Mom, letting go of friends, or just letting go, He was hanging on. And He reminded me of who I am.
This list of who I am, taken right from the pages of Scripture, anchors me to Christ. It tethers my soul to my Savior. When the enemy tells me who I'm not, when he reminds me of who I was, I tell him who I am.
Who am I?
I am chosen, gifted, anointed, and called.
I am forgiven, redeemed, restored, and loved.
I am adopted, renewed, recreated, and blessed.
I am a child of God, sealed by the Holy Spirit, and I have an inheritance in Christ Jesus.
God uses ALL THINGS for my good and His glory, and no weapon forged against me shall prosper.
Why do we have all these blessings? Not because we're good enough, strong enough, or wise enough, but because He is good enough, strong enough, and wise enough. And we are greatly, deeply, profoundly loved by God.
Go back and say these truths like you mean them. Proclaim them. Claim them. They are yours and mine.
Amen.
All rights reserved. Copyright 2021
By Mary Kane
 Resources
Would you like a printable copy of these verses to carry with you? Simply join our email list by filling in the form below and you'll receive a downloadable pdf file of The Who Am I scripture verses to print. Once you fill out the form, you should have the email with the printable PDF within five to 10 minutes, depending upon your connection. 
Do you need more help? Click on the links below:
Joyce Meyer: Your Identity in Christ
Gregory Dickow: Knowing Who You Are
Please leave a comment below. We'd love to chat with you!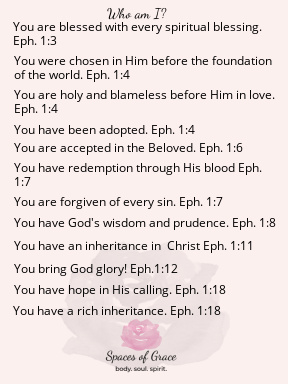 Directions to Print Card:
Get a piece of plain (unlined) card stock paper. I like to tear a piece of paper out of a 5.5 x 8.5 mix media sketchbook that I have and use that to print on. Use whatever thick paper you have. You will trim it after printing.
Depending upon your printer, choose the paper size of 3 x 5 (index card size or whatever is close to that) and then hit print.
Trim it with a pair of scissors (the paper will be bigger than the card).
If you like, laminate it, so it doesn't get ripped in your purse or pocket.