Get a Vision
It's been almost a month since we've rang in the New Year. Confetti has settled. Champaign bubbles have fizzled. Vacation is a memory.
We've a new year before us, fresh and untested, ready to be  explored.
The question is, Will we be intentional about it, or will we let it drift by without direction?
Pondering
A question to consider: Have you thought about what you want for this year? Made any resolutions? Many of us set goals, but don't always reach them. I know I've had that problem. I start strong, but sputter out usually within a month or two.
A November 2020 poll of 1,005 adults in the U.S. done by New Plates/IPSOS found that of the adults who made New Year's resolutions, 11% of them kept the resolution less than one month and 19% of them kept the resolution less than 3 months but more than one month. By the end of the year, 45%were still working on or had completed the goal, which means 55% of this group did not complete their goal.
May I suggest part of the problem is we have a goal, but we don't have a vision.
What Is a Vision?
The 1828 version of Webster's dictionary gives us insight into the meaning of the word vision:
In Scripture, a revelation from God; an appearance or exhibition of something supernaturally presented to the minds of the prophets, by which they were informed of future events. Such were the visions of Isaiah, of Amos, of Ezekiel, etc.
Well, we're living in New Testament times now, and prophets aren't the only ones who can receive a revelation, something supernaturally impressed upon the mind by the Holy Spirit. We can too!
Let's also consider Habakkuk 2:1-3
I will stand my watch 
And set myself on the rampart, 
And watch to see what He will say to me, 
And what I will answer when I am corrected.

Then the Lord answered me and said:
'Write the vision
And make it plain on tablets,
 That he may run who reads it.

For the vision is yet for an appointed time; 
But at the end it will speak, and it will not lie.
 Though it tarries, wait for it;
Because it will surely come, 
It will not tarry.'
This is how I'v started to approach my goals — by taking the time to sit with God and pray through His vision for my year. I'm seeking His revelation for my life in this season.
How To Do It
Pray. In the above verses from Habakkuk, we find more insight about vision. There's so much I could say, but why don't you take a few minutes to pray through the verses and write down in a journal what God impresses upon you for your life this year? I also recommend looking up Proverbs 29:18.
Create a vision board. In late 2022 I discovered Terri Savelle Foy's Vision Board Course and fell in love with this way of setting goals for my life. I worked through her ebook, prayed through the exercises, and created my vision board. I'm revamping it a bit for 2023, but my main vision is the same. The idea is to choose up to 10 goals, but to hyperfocus on them one at a time. If you're interested, right now in January of 2023 the course is only $8.
Align our plans with His. What has changed about my goal setting is God is directing my vision, and I am aligning myself with His plans for my year in focused intention. I

 

write my 10 goals and make a vision board I post on my studio wall. Every morning I pray over the goals.

 

One word. One other quick thing I like to do is choose my one word for the year. I've written about this in the past, and I still value this practice. This year my word is finish. It seems particularly appropriate as I seek to finish my vision/goals for 2023.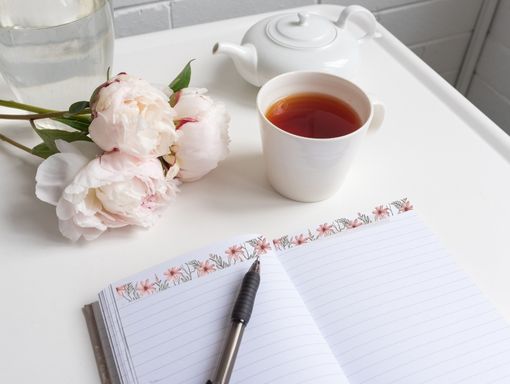 What Will You Do?
So as we contemplate this year, let's ask God for His revelation about our vision. We have nothing to lose and everything to gain. 
Leave a comment and let us know what you're thinking. We're praying for a blessed, productive 2023 for you.